Cars for Columbus House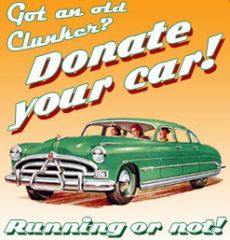 Do you or someone you know want to get rid of an old vehicle but don't want to deal with selling it, fixing it, or junking it? Columbus House has partnered with Vehicles for Charity, a respected national non-profit, to help us turn your old car, boat, motorcycle, or RV into funds to help end homelessness – whether it runs or not! All donated vehicles will be sold at auction or for scrap and Columbus House will receive 80% of the net proceeds. 
Why donate your old vehicle?
Donating an unwanted vehicle is often easier and faster than selling it on your own.  
It's a great way to make a larger donation to Columbus House than you may normally be able to.
All you need is the title and Vehicles for Charity will take care of the rest.  
It's safe, fast and easy and you may qualify for a tax deduction.
You will make a great impact in helping our most vulnerable neighbors!
Ready to donate?
Have your title handy and click here! Thank you!

Please contact info@columbushouse.org if you have questions.